Profile
Advanced technology to serve the needs of businesses
Breton - a pioneer in the development of advanced technologies and materials - is an international group specialized in the design and production of state-of-the-art industrial machinery and plants.
Philosophy constantly focused on research
Founded in 1963 by cav. Marcello Toncelli, Breton has the drive to seek out and develop new technologies and advanced materials encoded within its DNA.
The company of today is a multi-sector industrial group specialised in designing and building machines and plants for:

- Processing natural stone and ceramic materials
- Fabricating and processing engineered stone
- Machining metals, carbon fibre and plastics
- Thermosetting polymer based large scale additive manufacturing

Breton is a global operator present in more than 100 countries worldwide and with a workforce of approximately 1000. Over its years of operation, Breton has registered more than 1700 patents.
The founder
Marcello Toncelli
A native of Piombino (Leghorn), Breton's founder Marcello Toncelli relocated to Veneto after WWII. He was a man of vision, genius, and intuition.
He was also a hard worker and extremely resolute in pursuing his revolutionary ideas in the industry. He innovated processes and products, contributing to the introduction of industrial machining processes in the natural and engineered stone sector.
Discover Breton's history
Breton's dynamism – source of inspiration for a constantly evolving group
Breton is a family owned Italian company with headquarters in Castello di Godego (Treviso), a further two production plants in Campiglia dei Berici and Vedelago, and six foreign branches.
Breton has become a global organisation, a technological leader in all its areas of expertise, including machine tools for metals, carbon fibre and plastics, and additive manufacturing plants.
Breton is also the world's largest company operating in the production of machines and plants for processing natural stone, and for fabricating and processing engineered stone.
+100

Countries in which Breton is present

3

Operational offices in Italy

73.000

Production area in m2

+45

Authorised Technical Services
To transform pioneering ideas into cutting-edge solutions, promoting sustainable growth and driving progress through continuous innovation.
Innovation as a mission
Mission
This teaching inspires the culture of innovation rooted in Breton, a company that shares an open mentality, oriented towards exploration of new horizons and the search for practical solutions to real problems.
Developing advanced technological systems to empower people and companies to shape materials, processes and performance.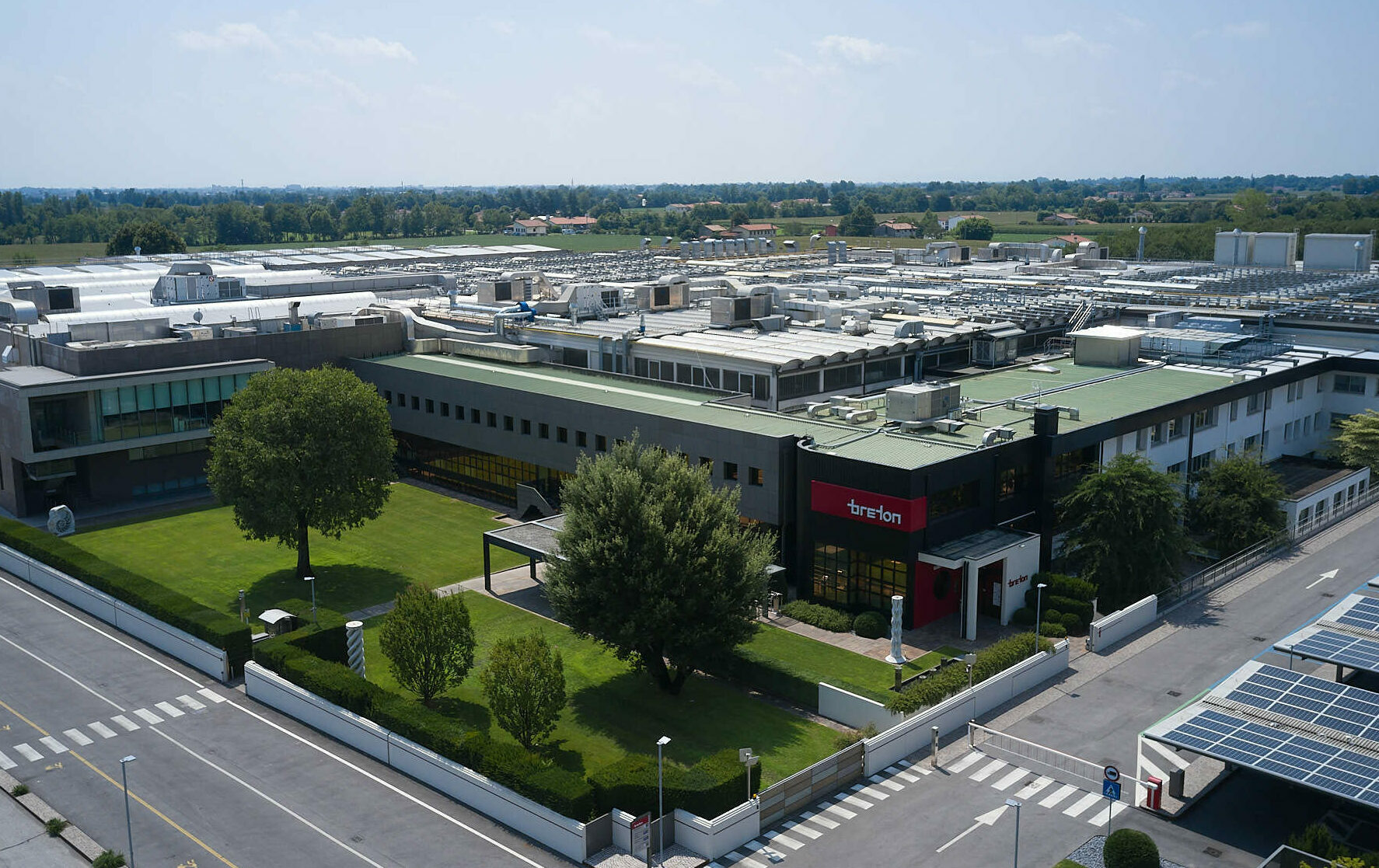 Breton today
Breton S.p.A., with headquarters in Italy in Treviso (Castello di Godego), and a further two production plants (Campiglia dei Berici and Vedelago), six foreign branches and nearly a thousand employees, has risen to a position of dominance on the world market thanks to its consistently research-oriented philosophy.
Learn more about in other sections