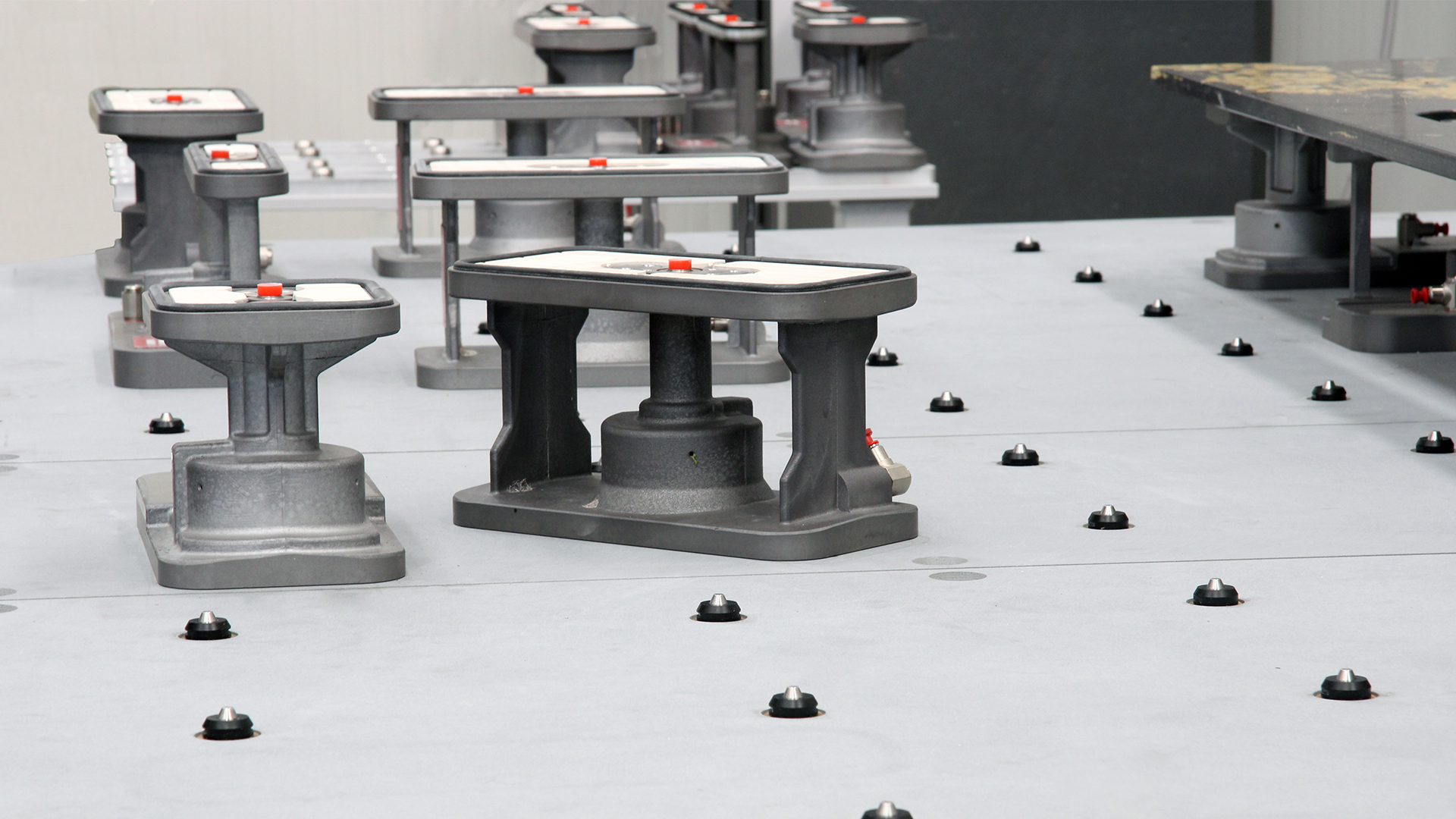 System for automated clamping of sheet workpieces on the work tables of contouring machines
The vacuum pods used to clamp workpieces during machining processes do not require flying flexible hoses because they interface with a special table equipped with smart valves that are controlled in accordance with the machine cycle.

Breton

Robocup
Automatic and safe

With automatic positioning, the operator is certain of the absence of errors because the vacuum pods are allocated with decimal precision according to the layout planned before entering the machine.


Trustworthy

Workpiece clamping is guaranteed through time thanks to the absence of exposed flexible air lines. The vacuum is applied via steel pipes located under the structure. The large cross section of the pipes makes them impervious to fouling.


Integration into robot islands

3

Integration into robot islands

Robocup is particularly suitable for use with robotic work cells. In addition to loading and unloading workpieces, the robots can also position the vacuum pods freely, without being obstructed by flexible vacuum lines. With this system, vacuum pods can be installed or removed freely, depending on the work table.

Efficient

Robocup allows use of the new vacuum pods that can be retracted during the machine cycle and are particularly suitable for use when making sink cutouts with polished edge without interrupting the machine cycle to unload the offcut. Breton's special vacuum pods do not require additional energy or signals in order to retract within the program cycle, because they are retracted to the low position and then raised again by means of an actuator on the spindle.


Stable

Robocup è in abbinata al piano in metalquartz, materiale molto stabile, robusto e di facile rilivellamento.
In any case, the Robocup system guarantees correct and rapid positioning of the vacuum pods
Stable and safe clamping of workpieces allows faster milling and improved finishes. Vacuum pod positioning can be performed in three different modes: manual, performed by the contouring machine spindle, or managed by an external robot.
Resin-based engineered stone
Cement-based engineered stone
Robocup: a secure grip with automatic management
Vacuum pods available in various sizes, shapes, and heights to match all types of needs

Vacuum feed valves integrated in the work table for easy maintenance and replacement without the use of threaded or interlocking fixing systems

Robocup vacuum pods, made from a solid aluminium alloy casting, are machined on an NC work centre in order to hold the workpieces securely during machining cycles.