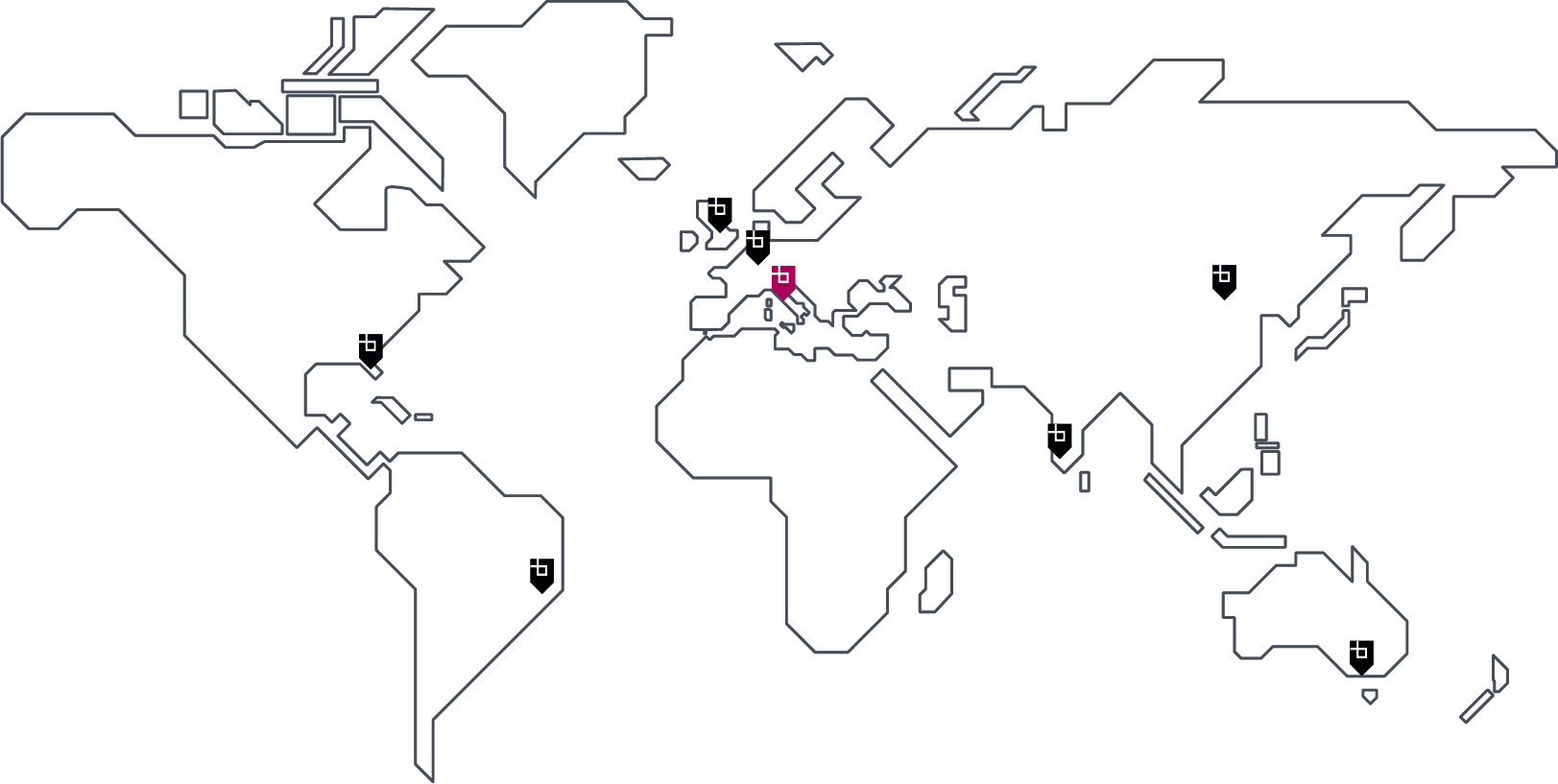 Breton has been operating on the market for 60 years and has always believed that in order to provide a service that meets its customers' needs it must not only employ specialized and highly skilled personnel, but also maintain a widespread territorial presence. In fact, the company's objective has always been to provide a service of excellence and for this reason, over the years, Breton has established branches in various countries to create a well-structured global presence.
This puts Breton in close contact with its customers to meet their requirements as quickly as possible with the best possible solutions, eliminating delays and breaking down language barriers, creating specialized services for the context of reference.
Breton in North America
Breton USA was the first branch Breton opened abroad. Established in 1979 this branch was originally based in Atlanta before moving to Ft. Lauderdale and then Sarasota in Florida, where the main branch is located today. It's the most well-structured of our branches and has been constantly growing since it opened. Today, over 30 people work there providing customers with all the assistance they need from sales to service and spare parts on the North American market as well as in Canada, Mexico and the Caribbean.
Breton's main sector is the stone industry, but our machine tool division for working metals and composite materials is continuously expanding, also through a widespread network of service points operated both directly (in Florida, California and Michigan) and through authorized dealers, with a total of six service points in North America.
Breton in Australia
Breton Australia Pty Ltd is based in Melbourne, and it's the only branch on the continent. The Australian branch opened in 2010 and provides services for all Breton machines sold in Australia and New Zealand, both in the natural stone sector, from block cutting and primary machining process to fabshop finishing, and the metal and composite materials sector.
About a dozen people work at the Breton branch providing a complete range of services from sales to assistance and spare parts for all the sectors the company operates in.
Breton in India
Breton has been operating on the Indian market since the early 1980s.
Breton India Services Pvt Ltd, established in 2006, has its headquarters in Bangalore, where there's a 6,000 ft2 / 550 m2 spare parts warehouse and our team of skilled Indian technicians have their offices.
There's also a commercial branch that provides technical assistance in Udaipur, to offer services and meet the needs of clients in Northern India.
Breton India's technical team installs and commissions machines for the Natural Stone and Engineered Stone divisions and also provides after-sales services for all customers with online and on-site support. Breton India keeps a stock of critical spares and consumables in its customs warehouse to guarantee the timely availability of spare parts for customers.
Breton in the UK
The Breton UK branch is located in Cambridge. It's the most recent Breton branch. Established in 2017, it was opened so the company could maintain a widespread presence in the UK and offer services tailor-made for customers on this unique market.
Breton UK currently employs about a dozen people, although more will be joining the team in coming years. The UK branch sells machines and software for working natural stone, engineered stone and ceramics, providing spare parts and assistance for all Breton customers in the UK and Ireland.
Breton in China
Breton has been operating on the Chinese market since 1986, the year in which the Breton China branch was set up with its headquarters in Hong Kong, which was later transferred to Beijing. The Chinese branch specializes mainly in machine tools for working metals, resins, alloys and composite materials.
Today, after 35 years on the market with an extensive distribution network throughout the country, Breton China employs a staff of 10 people, half of whom are specialized technicians providing installation services, on-site assistance and training for Breton customers. Breton China also has sales staff to help customers find the best technical solutions to implement their projects in the most efficient way.
Breton in Brazil
Breton do Brasil was established in 2015 in Cachoeiro de Itapemirim (Brazil) to provide timely and well-distributed services and meet the needs of the company's growing South American market. Breton's Brazilian branch sells, installs and services natural stone machines, supplies spare parts and consumables, and reconditions polishing heads. A team of 8 people provide on-site support and servicing for all installed Breton machines.